( 0 Votes )
The Good, the Bad, and the Metal by Mick Michaels guitarist and keys for Metal Corners of Sanctuary a band noted for being ambassadors of metal ©2012 with permission exclusively with theneverendingstage.
Corners of Sanctuary kicks off our in depth look into the state of metal music and we are very proud to have them take us into the mindset of metal lovers!
We will dive into the past, present and future of metal in a seven part series and dive into what makes metal fans the most loyal fans in music! Corners of Sanctuary will be blessing us with more metal news best they can in between touring and recording writing about the metal world they live for!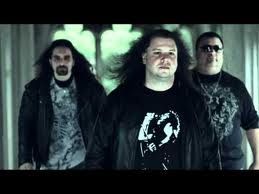 In the words of Guitarist Mick Michaels of the Metal band Corners of Sanctuary featured above kicks off the metal series with his thoughts on the world of metal.
Like it or not, metal has evolved, and will continue to evolve. Evolution is what allows things to thrive. As humans we evolve – contrary to popular beliefs. ☺ Evolution is expected, so should it be for Metal.
Tastes are a personal preference. Tastes are what have spawned the many sub‐categories that exist today in Metal music. Nowadays it seems that each subdivision has multiple subdivisions. Often it is confusing – some of us can't tell the difference. But is that really the idea? Are we, those who have enlisted in the ranks of the Metal army, looking to create divisions – separation – within our own genre?
Aren't we all on the same side, fighting for the same thing? Don't we all face similar obstacles? Even with Metal's commercial heyday back in the 1980's, opposition to its mission has existed from the very beginning.
We all know the arguments: "it's the Devil's music", "it corrupts the minds of its listeners", "it makes kids aggressive". Metal has been accused for suicides and death – recalling the US Federal trails involving Metal pioneers Ozzy Osbourne and Judas Priest some years ago.
It is almost absurd to consider that not only with the external opposition Metal regularly faces, that those within have generated their own internal opposition simply by creating further divisions and verbally bashing those who do not appear to fit a particular mold of personal tastes and likes and dislikes.
Sub‐divisions only serve to destroy the very foundation that holds Metal Mania together. In reality it's all the same – we are all the same. The music all goes through the same process: from the heart, to the mind, to our listening world for all to hear, experience and share.
Sure, it's not for everyone but neither are Docksiders and Polo shirts. Regardless, united we stand, divided we fall. Whatever your take or preference within Metal, we are all in the same trenches – together. Metal is forever and can only stay that way provided the right to rock is extended to any and all who pledge their allegiance to the message.
Metal is unique – it has stood the test of time and continues to break barriers and open doors worldwide. But the thunder can easily stop if divisions continue to divide. Metal: here, now, forever \m/\m/
Song by Corners of Sanctuary "Sanctuary" from the bands album "breakout" 2012! Stop by C.O.S are featured members of the stage and we really
admire the commitment they have to metal music, fans and the betterment of music in general! Help support metal and the band
We wish to thank Mick Micheals who's expert views of metal hence living it his entire life drive home the concerns of those who love metal and wish for
it to flourish as the art form that makes no excuses! Metal's powers are often misunderstood but always recognized by the media and others who feebly
wish to contain it!
I've personally always loved the musician ship and unique vocal approach to metal! The rawness of metals guitar is perfect for most any occasion and
requires one to turn it up as loud as goes! The topics covered in metal lyrics and the depth of those lyrics have always struck me as incredible and mind
blowing! Topics like life and death, anger, hate, hope and millions of other subjects makes metal the most honest form of music there ever will be! Metals
powers are alive well throughout the world and it's numbers are only growing with bands like Iron Maiden performing to sold out crowds world wide!
Mick is ultra talented and his efforts in this article showcase his love for metal and devotion to creating true metal for the masses! We really wish to thank
him big time for taking a moment from his busy schedule and blessing us with this wonderful article it's truly amazing and he's a very gifted artist and writer!