( 0 Votes )
Hey guys it's Jesse from Brothers N Arms, if you are not familiar with my band we are from College Station, Texas and play regionally. If you are wondering what our music sounds like I'd like to think it is a mixture of Rise Against, The Offspring, and Volbeat. We are a hard rock band in general but have been compared to "an angry The Ramones", Hawthorne Heights, and a new age scream with classic guitar and punk rifts. My band can be found on any social sites out there and our cd can be found on iTunes, Cdbaby.com, Amazon.com, Spotify, and other online sites.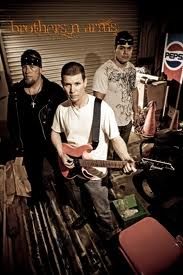 2012 has been a good year so far with our last show at the 19th Hole in Houston, Texas. The crowd response at this show was by far the best we've had with a killer line up like Rockett Queen and Rainchild the night just got better after our set. We introduced a new instrumental song that had a punk feel with blues bass and guitar sync runs. This is one of my first of many write ups as I share my band life, concerts I attend, and other events that are going on. August 10th I'll be attending the Evans Blue concert in Austin, Texas at Emo's and August 11th I'll be at the Bayou Center in Houston to see George Lopez so stay tuned for articles about my experience at these events!
From our site T.N.E.S would like to fully Welcome Brothers-N-Arms to our readership and You to them! We've included all of there major links to Jump start your connection with them! Note to all bands you can place your links for sale using our "BUY NOW TAB" to do so click Edit profile and just insert any of your for sale links. This way music lovers who wish to purchase or preview your music can have a chance to do so with confidence and ease of use! Look for more From this band as they make there accent to the top of the music charts and thanks guy's for sharing your rock and roll week with our viewership! We really appreciate your update and your band and we look forward hearing more from you hopefully soon!