( 0 Votes )
The Old School – Not a Bad Place to Be by Mick Michaels of Corners of Sanctuary © 2012 used in conjuncture with T.N.E.S Terms of service This
ongoing metal series she's light on metal from those who have lived it! Not just for a moment but for a lifetime! In the words if Mick Micheal's guitarist for
Corners of sanctuary, writer, and Ambassador of Metal and music here we go!
History serves as a means for documenting the past. It sheds light on the development of what we experience today. Everything has a past –
without it there would be no future and certainly no present.
Metal too has its history. Arguably, the roots of is progressions are highlighted by the achievements of its prominent pioneers: Black Sabbath,
Alice Cooper, Kiss, Deep Purple, and Led Zeppelin – the Old School.
By today's standards, however, those early Metal settlers may appear to be tame and low keyed compared to what we see and hear today.
But are they really? Sure, the music tempo and arrangements may be a bit more dieseled up than those of the forefathers but the intent behind
the delivery is just the same as it ever was.
For many, the term "Old School" denotes a forum or ideal that is now passé in the Metal world ‐ a sound that once was. Let sleeping dogs lie.
Some have even gone as far as given an elementary connotation to the old regime's achievements and relevance. As if we of today got here on our
own. The path was already forged. Make no mistake about it, the Old School was ground breaking. It stood in the face of mainstream and did
not flinch. Blood, sweat and tears, and maybe the occasional overdose, were given in its name and for its cause.
The trials early Metal professors surmounted were not only many but often could pose a career ending blow. Acceptance is now part of the norm
of the day. Back then, not so much. Time may heal all wounds but it all seems to cloud the memory or even, for some, hide the truth.
People seem less interested in how they got here than where they are or will be going. We are missing the experience of journey, people! This
author has had, on occasion, the pleasure to meet individuals who believe Metal first originated in 1995! ??? I was further schooled that if the
singer actually sings then it's not Metal. Double ??? For some Old School is not even classified as Metal. Hell, the Entertainment industry has
done a fine job of that for us.
The funny thing, depending on the generation, "old school" is something different for each. Those who live in glass houses should not throw stones.
Give credit where credit is due… and credit is due – maybe long overdue. Keep it Metal \m/\m/ without further or due here is a break out video
by the band Corners of Sanctuary "Forgotten Hero" video honoring all the solider's in the united states armed forces world wide!
We thank Mick Micheals for letting us inside a mind that lives, breathes and is Metal! His articles have been so popular and so requested that this
metal series will be on going for you the metal fans for crave news, updates and in-site into the past, present and future of metal.
Please support the best in metal and check out the highly acclaimed metal album "break" out by corners of sanctuary
Note to everyone as well! Wish to have your band featured on our site! The first step is to register! From there you are a member! Once a member
you can promote your category of music, your band, your videos, up coming shows and much more! Theneverendingstage.com is for everyone!
This is your site, your platform so please join in and become part of making this happen!
We are new, only months old! Your watching the next myspace or facebook unfold right before your eyes! over 100,000 people almost this
month along and not 1 penny was spent on advertising! We hear ya, you want change and it's coming! No more monopoly by the top 100
biggest bands! Nope we are showcasing the best new bands worldwide because it's the right thing to do because music shouldn't be controlled
by money hungry moron's! Yeah that's right, I won't let money control me, nor will it control music lovers who wish for their favorite bands to
get heard as well!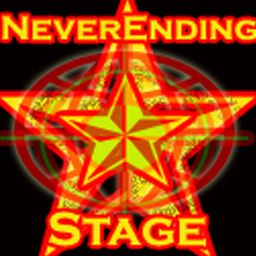 Built for those who love and support music! This world wide site works hard to promote the best in new music because we believe the best in music hasn't been heard, Not even by a long shot! Yes world wide! Help us to help you and join the movement today! 100% free built by a band for bands! Maybe my coffee was strong but I just get sick of hearing the same old crap on the radio and I'm tired of rich people thinking they own the world just because! Music is life, it's energy and it won't be owned or controlled by anyone!
When less than .00001 percent of bands and musicians make all the money that alone should motivate you to help join the fight to level the playing field and make it about the music not a monopoly! It's clear something must be done! It's not fair to the hard working bands out there to be ignored because rich folks only play a few select bands on the radio stations they own and it's crap!
This site is ground zero, want to know who this site is take a long look in the mirror! You are this site, you are the state of music, you are the grass roots efforts to change what's wrong!
So let's change the playing field, let's give music fans what they crave! The best in music hasn't been heard yet and that's you! Join today and let's change the music wold as we know it! Start right now and join the fight to break the unfair monopoly by rich people who could care less about music or the fans and Get Heard!