( 1 Vote )
So We are rocking out as of late and Kicking it with the articles here! The bands sound is just amazing showing us what a little drop D can sound like! For those of you that don't know it's dropping the E string to a D helping to create the dark and hopeless sound we've all grown to love with our favorite Metal Bands. Call this band what you want, doom, gloom, metal, rock, progressive, the bottom line is they kick ass!
American rock band from Los Angeles, California. Formed in 1990 group's line-up has included drummer Danny Carey, guitarist Adam Jones, and vocalist Maynard James Keenan. Since 1995, Justin Chancellor has been the band's bassist, replacing their original bassist Paul D'Amour. Winning three grammys Tool brings to the talble a sound of their own like any super group backed by some Dark wonder that sucks most anyone into the black hole that is Tool.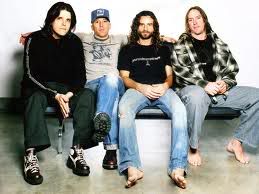 Tools efforts to unify musical experimentation, visual arts, and a message of personal evolution made them not only big in the united states but world wide capturing audiences well after the radio hits they were known for.
Evolving there sound as there mantra this gifted band will be around as long as they wish to be. With talk of the band making an experimental movie of sorts A possible project until a next album is to make a "band movie", something tool has considered for a long time.
The ideas range from "a narrative story in a surreal fashion to something out there with as much money and special effects as possible" the band has openly said it's just talk but that would be interesting to see the bands talent transfer to the big screen. Known for there relentless touring to support albums I'm sure we will hear something soon. If you get a chance this bands known for it's live shows so check them out when they stop into your local area!