( 0 Votes )
Gedday thrillseekers at TNES...
time for another Murdly update on our latest live outing...
Was pissing with rain yet again for a Murd gig but the punters were out in force at Fat Louie's in Brisbane city....plenty of punkers, skins and hotties crammed the floor as the bands wreaked their own brands of mayhem..
First the South City Sluts opened up and blitzed the crowd with searing lead, brutal straight ahead drums from Cliff, rumblin' bass and ROCK N ROLL!! Gav the guitarist/singer's shirt declared "I Love Pussy" and yes indeed they do! They were pinned to the eyeballs and scullin' vodka through a blistering Motorhead meets Rose Tattoo in a blender set. Well played Sluts and goodbye bass player Del , hope they can replace ya soon.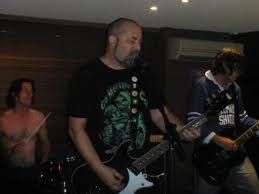 Then it was time to step back to about 1981 with the staunch aggression of Plan Of Attack, Brisbane Oi at it's finest and rawest. With guttural brawling vox from singer Baz, Leethal on bass who also plays for Le Murd btw, Jules n Trev on duelling punk axes and Todd on drums the Plan boys came out swingin'...the skins brought the mosh and no one was in any doubt what Oi punk was all about by the sweaty end of the set.
Time for the Murdheads to unite, and the floor was full again ... Leethal Sheiser backed up for 2 sets in a row and it was a great effort from the big man...the Murdsters had the loudest sound on the night and the triple vox attack really shook the old barn...Ben Bogswell's drums continue to get tighter and more focused every gig ...Merde and Scata had a dose of the flu each and were below match fitness but got the job done...there were some amusing moments of slapstick as Merde's strap fell off through Comedown and Lee's lead popped out for the first of 3 seperate occasions...these things annoy most bands but Le Murd loves these moments of punkness...and the set went down a treat, though many were deafened temporarily by the thunderous buzzsaw racket.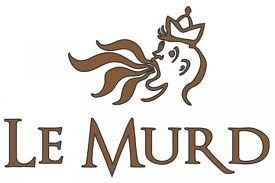 Flangipanis headlined and brought their big following to the show...Jodie and the boys have been getting a lot of airplay and notoriety for their humour and live shows and rightly so, once again they delivered punk with a fun edge to the frenzied punters, who went home dazed and happy with their punk needs satisfied well and truly.
When they asked the crowd to "Get Ya Tits Out!" for their encore, many did..
Next gig is the Palace at home town Redcliffe and another Punkfest in July...YEEEEEUUUWW!!
Cheers ,