( 0 Votes )
Above is the live video take for the Hit song breaking big in Australia heading over the water to the states "Vomit to Live" Starring actor known as Locky who portrays a drunk guy schlepping a toilet seat on stage. Why well who knows its punk but never the less it's priceless and Locky is an outstanding actor. He really make the video stand out out of the millions of videos that are on youtube! Well done mate!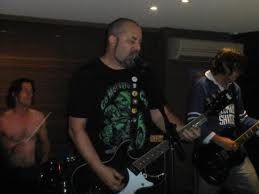 Well in the words of Le Murd a little ramble about the state of punk music!
I really miss gigs where you could mosh, dive and slam to your heart's content, scull a couple drinks, have a smoke and then get back to the action. All this fenced off, bracelet wearing segregated super safe crap really shits me....
Look at anything from the late 70s to early 90s, like Bad Brains or the Cro Mags at CBGBs, Black Flag and Misfits gigs, early UK punk etc etc and what do you see ? Freedom! That's what it is people, total freedom of expression, from the crowd as well as the artists.
It's what made this music great. We can try to rock out and get wild within today's framework but it will never be the same again. Over regulated, over done, OVER IT!!!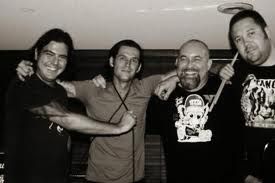 I want to make the call to any punters who come out to catch Le Murd to get loose, get down with it, lose your shit!! Take a chance if you want...don't be regulated and stifled into boring robots who file in dutifully, watch the band in their appropriate area with the correct colour bracelet on , and then file out again. That shit SUCKS the big one..it's not what rock n roll and the punk, hardcore etc that followed is all about.
Danger = fun... safe = boring and it used to be fun in the pit or on the stage at gigs cause anything could and did happen..it's all so predictable these days...if you don't want the risk or whatever, don't go to the show, and everyone's happy...
Well aren't I a grumpy old bastard this week? Those who were lucky enough to remember what it feels like to have that danger in the air, enjoy the seeming chaos of a real mosh, to not know what is coming next,,,savour the memories.
Paul Merde
We couldn't agree more with Le Murd on the State of Punk Music and the state of music in General! T.H.E.S believes the best music that's out hasn't been heard! The reason why is the radio stations are controlled by the rich who in turn own bands with major record labels which dictate what we can and can't hear.
We need to take over music and showcase the millions of bands that do rock but just can't get heard. Showing off the top 1,000 bands in an effort to make money is what the radio stations and record labels do. This ensures that we will hear the same old every day, over and over again. This is mental programming or branding and it's a shame that money dictates what we hear.
This is why we started this site to showcase new music and give listeners a platform to hear the best in new music. I believe the world is tired of the same old and sites like ours are growing in popularity. This helps those who love music to be exposed to the best in music and helps to change an industry owned and controlled by those with deep pockets who attempt to control what we hear, see and believe.
Beyond that crap is the fact that Le Murd Pointed out so eloquently that the raw nerve that drove punk to the world stage has been replaced by polished bands with water downed messages that really don't mean much. I thank Le Murd for pointing this out because it's what's lacking in the world of music today!
Le Murd is a Punk band From Clontarf, Queensland, Lives in Brisbane, Queensland, Australia Le Murd is a band to watch this year as they shoot up the chart's world wide!