( 1 Vote )
I've watched over 50,000 videos in my life time, maybe more! Most All of them music related! This takes the cake! Detroit Michigan's Ray Gunn Folks is the real deal!
Theneverendingstage.com will be promoting Ray Gunn world wide! We also with his blessing would love to see him perform this live at a major League baseball or sports function i.e NFL Football game, red wings event etc Performing Live The star spangled banner!
We believe in his talent that much and plan on doing something about getting this heard because it's that amazing! We've received allot of inquiry about this video and Had to show case it due to so much interest in this video!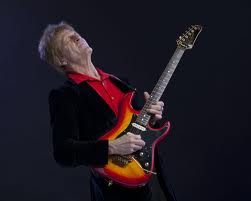 I've personally never in my life ever heard the star Spangled Banner done better than Ray Gunn did in this video! I'm talking singers, and any other guitarist famous or like wise! It's mind blowing really what an incredible talent!
Ray Gunn is currently releasing an independent 6 song original cd out, "ENDING PENDING" Ray Gunn has worked with 100 PROOF (Somebody's Been Sleeping in my Bed), on SOUL TRAIN! Played with New Order, & Frijid Pink, however per his words "I am NOT on any of these million sellers and never received notoriety until recently after Ron Ashetons & Dave Gilberts death.
Clear to see from theneverendingstage's point of view this guitars is a prodigy and legend who must be heard! Growing up playing with robin robbins in the Virgin Dawn, he also did a gig or two with the DETROIT ALLSTARS, Mitch R, Fred S Smith, Scott Morgan and spent the 70's-80's rocking from Cali to southeastern Mi.
Ray Gunn has a new 3 piece original band, "RAY GUNN" and is looking to play some concerts! Booking agents look him up! Everyone get out and hear him and his three piece band live this summer!
His Influences: Beck, Fripp, Zappa, Satriani, Clapton, SRV, Hendrix, Page, McCarty, etc.
For the video credits Ray Gunn/Guitar, Gordon Meldrum/Bass, Wall-e/Drums playing LIVE! The girls love it!
Audio and Video - Tom Lubinski and a thank you to motorcitymusicfactory for video:
http://www.theneverendingstage.com/cb-user-profile/userprofile/rdimeo
https://www.facebook.com/pages/Ray-Gunn-Detroit/181632175233577