( 2 Votes )
Jennifer Westwoods Weekly Column covering a star that inspired Jennifer to reach for the stars! In her words Jennifer opens up about Tina Turner and what the star has meant to her!
I have a lot of female musicians that I admire. Musicians or not they are role models and sources of inspiration. One of them is Tina Turner and for so many reasons.
First off the lady just rocks and she did it like few others in the era she was coming up in. She was so unique. Her vocals easily crossed the lines between R&B, Soul and Rock and Roll (and in later years o Pop/Rock). If anybody told her she couldn't do what she was doing, that she needed to fit into a specific package, she didn't listen.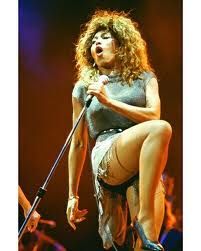 She was completely capable of giving the guys a run for their money with her grit but at the same time was unashamed of her brand of femininity.
Her grit and womanhood went deeper than her vocals and sexy wardrobe. She was in a relationship and partnership with a man (Ike) that was by some credited to pen the first rock and roll song. But it was an abusive one of convenience, profit, and painful for her.
I can imagine that there was a lot of heartache and fear for her to overcome. She had so much talent and creativity but you get this sense that she didn't know it for a long time.
She went on of course to overcome, kick arse, and do it with a timeless pair of hot legs in high heels. She fought back for her life and career.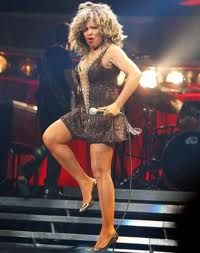 Tina Turner's version of Proud Mary is one of the best recorded performances by a female vocalist forever in my opinion. Black Coffee…Baby Get It On is one of my favorites too. Its just good fun rock and roll.
We here at The stage see a striking similarity with Tina Turner and Jennifer Westwod! Both are sexy, Have Powerful soulful voices and Have endured through life's challenges always working their way to the top!
Jennifer Westwood and Artist of the month in 2012 is a serious artist heading to the top as we speak! She will grace us with her weekly column and we couldn't be more excited!
Jennifer Westwood Love's
Detroit! Clear to see her roots in this sexy auto Pin up!
Interesting to see just how sexy Tina Turner is this Auto related photo!
Theneverendingstage.com Fully backs, believes and supports Jennifer Westwood! Earning Artist of the month means we have your back and will promote you world wide! We are working in partnership with this future star and will work to ensure her Music career thrives and prospers to the top! Registering with our site get's you on the road to free world wide promotion, media connections and much more!
http://theneverendingstage.com/stage-newz/384-jennifer-westwood-artist-of-the-month-for-may-2012
It would be a crime for Jennifer Westwood not to be on stage singing and performing! I can't imagine her not doing music! Jennifer lives, bleeds and breathes music more than any artist I know! It's been a joy becoming a fan and friend of this multi-talented artist The sky is the limit for her future!
Our site will be working with Media world wide and expect Jennifer Westwood to be showcased to those contacts in the Near future! She's worked relentlessly over the years playing shows, recording and perfecting her craft so it's time for it all to come together!
I love Tina Turner! When I was young I freaked out hearing her voice and just about lost it watching her videos! I was into Headbangers ball at the time a show dedicated to heavy mental music Yet I was into Tina's music cause it rock so much!
I really enjoyed reading Jennifer's article! I Must admit she's a stronger writer than myself! That's OK I'm a big fan of her music and now her writing so it's all good!
Please support Local music and buy Anything related to Jennifer Westwood! You may do so by clicking on this link and checking out her site and becoming a fan! http://www.jenniferwestwood.com/
At Jennifer's site you can also check out Jennifer Westwoods App, blog and tour dates. Her EP Dishwater Blond is simply amazing from the first note to the end! This is a must see artist if you get a chance make it out to her shows you'll be glad you did!
You may also register at out site and get to know Jennifer here at the stage http://theneverendingstage.com/cb-user-profile/userprofile/jenni