( 0 Votes )
What has the world of music come to? I must admit I dig the video, and I like the song for what it's worth. My thought here is after you push a few buttons and fart out a song that sounds like this. How much effort does it take to make 1,000 more? Is this what music will become in the future?
So song mills pump out thousands of beats, or electronica type songs and the computer does it all is this still music? Will I have to tell a grand child one day about how it was back when people actually used to play instruments? When they used to sing and write songs verse some computer program that does it for you? I'm not mad, just interested in how far we will go with all of this and mortified if it becomes the norm!
The thought don't be mad at the player be mad at the game! Well Not only do I think computerized songs all sound the same but I think it's a reflection of the current ill's of the music industry.
With 100 companies owning the radio, TV, cable, and buying up and attempting to control the internet! it's clear to see why only 1,000 top bands are played day after day on the radio. It's not because they are the best, it's because they are backed by money. Yes that means some old dude who listened to Elvis is picking what you should listen to and that sucks!
Yes I know, people at the top are mega talented. This may be true but why do people have to hear something 10,000 times before it becomes spam or they get sick of it! Shoving music down peoples throats is rude but it's the way big money works. They push and push till you stop fighting and end up conditioned to accept there agenda.
The ploy of money is to control the music industry, own what's happening and charge you hundreds of dollars to see shows that used to cost $20 bucks and that's really a shame that music fans are being treated this way.
It's really a form of mental stalking really! Turn on the TV and what do you hear and see hundreds of times a day? The same old songs from the same old bands! It's really a trip to realize how many times you will see a certain band and when you compare this to how a company builds a brand for a given product say pizza the strategy used is identical.
For the average pizza company to make you recall there band they may need you to hear and see advertising over 10,000 times a year before you become a fan of that brand. The radio ad's, billboards, crappy commercials before every video you watch are just a few examples of the war being waged on your mind on a daily basis.
Even your favorite sports team has hundreds of messages to reach you emotionally, subliminally, intellectually, socially geared to create a favorable impression of that product. Hard wiring people is what branding is and it's been done since the great marketing era started many decades ago. It's just sad that we are treated like social experiments verse fans of music is my point.
Social conditioning is so powerful That banks won't lend money to start up's that are new but will consider you if you join a franchise. If you are running a business that already has a well known brand name you are 90% more likely to succeed verse you trying to create your own brand name from scratch.
It costs allot of money to start a popular brand! This coupled with trial and error is why people pool their money together and enter into the franchise concept. Simply put beyond money and the odds stacked against anyone who tries. The chance a business owner himself would have the ability to succeed at making a brand name that sticks, earns market share and thrives is up there with winning the lotto!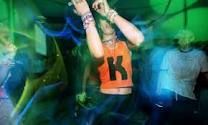 So what's the future of music and will we play instruments in the future? Will we come up with new wave instrument that are out of this world cool! Just a few years ago we thought the world was flat! Flying an airplane was thought impossible and breaking the speed of sound was all but folk lore a hundred years ago!
It's sad to say it but music will become more controlled, the internet will become something similar to cable where you must pay for certain channels or sites. With DJ'S out numbering bands and songs becoming more and more computer driven. Look to the future to be owned and operated by computers and the art of the concert to become more like clubs. Better learn how to dance is all I've got to say and it's a sad thought to imagine but it's coming!
These are my thoughts, my feelings and my views. Do you have views or your own and wish to share them! If your a member click on the Submit article feature and grab your own press!
I will review your work and help to get it onto our site! So don't worry about it being perfect just get it to us! It's fun, easy and we are currently seeking bands, web site owners, those in the music industry such as promoters, managers, record labels or fans who wish to write about their favorite band, concert or tell us what's on there minds!
This is your site and a platform to enjoy, share and showcase your talent! Get heard today and use the Submit article feature or send me our story at This e-mail address is being protected from spambots. You need JavaScript enabled to view it We look forward to featuring your article!