( 2 Votes )
LOUDER THAN LOVE is the story of the Grande Ballroom in Detroit Michigan. The Grande Ballroom is the birthplace of the Detroit Rock Music Scene and regarded by music Icons as the heart beat of Detroit Music History. Bands like MC5, Iggy & The Stooges,Ted Nugent & The Amboy Dukes, Alice Cooper and many more Iconic acts got their starts there and it's the most over looked piece of music history today and that in justice must stop now.
Our site will lobby and fight to make sure that the history of this precious historic venue is not ignored! The Grande not only influenced local Detroit musicians but influenced those from the US & from Europe.
Legendary acts like Led Zeppelin, Cream, BB King, Janis Joplin, Pink Floyd and the Who graced the stage at the Grande on a regular basis and that's a large piece of music history to just delete and it's insane not to fully document a large piece of music history as we know it.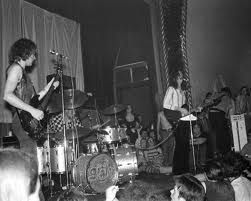 While the west coast was important Detroit was pumping out a hard driving and raw sound that was central to music history and inspired the premise for "More than love" please go to the web site and check it out! Please support this amazing film maker and go to his site to become a part of the Magic of restoring and correcting music history http://thegrandeballroomstory.com/
This is the most important piece of work theneverendingstage has ever done! We wish to help Jennifer Westwood and Tony D'Annunzio and anyone involved to help restore and reaffirm Detroit's Music Legacy!
The grande Ball room was at the epicenter of music history and a slew of iconic hall of fame musicians who got their start there. It's a shame and out right an injustice for anyone to deny the history created at the Grande Ball room!
The grande Ball room is a significant part of music history that must be correctly reported to ensure the history of music as we know it! If you wish to help please contact me directly! We will be featuring weekly This Iconic Venue and help to firmly place what's been hidden into the spotlight as it should be!
If you google Detroit Music History over 90 million search results pop up! It's time we get this right! It's time Detroit get's the R-E-S-P-E-C-T it rightfully earned! Hall of fame greats lined up to preserve the history of the proud city that rightfully birthed movements such as Motwown, punk music legends, the Grande ball room, the Auto industry, Rave, electronic music!
Detroit is a vital part of the history of this country! Without Detroit Michigan and it's auto plants it's questionable if we would have won the war! Detroit Michigan helped build the foundation of this country and we are music history! Detroit Rock city was named that by Icon Gene Simmons for a reason! Detroit won't lay down and won't let fools who are clueless to music history tarnishing this city's incredible Music legacy! Thank you Grande Ball room for all the History and secrets you hold but most of all we thank you for the memories you helped create and your work in shaping music history as we know it!